Photodiode Amplifier LTA-10
We have been developing and selling the Photodiode amplifier.

■ Overview
* This product is designed for the purpose of an amplifier for photodiode,
but can use it for various objective amplifiers as I-V amplifier.
* Because It can set an electric current to up to 50uA for a measurement
object connected to input, it is available as an amplifier for various sensors
which a resistance level changes into.
* A convenient measurement terminal is equipped for the wave form monitor.
* A simple low-pass filter is equipped with for the signal observation of the
lower frequency of DC-15 kHz range.
* "The Auto-offset function" to coordinate automatically an offset current
for a dark current or the DC ingredient reduction of the photodiode is
equipped with.
■ Main features
* 103~107 FIVE Decade Gain Range
In the 103 range, can input to +/-5mA. [-/+5V output]
* Bias voltage setting of +/-10V
Either of common-anode and common-cathode can set a bias voltage.
* Offset current setting of +/-50uA
By digital circuit, it can set by 25nA step. The set value maintains it in
power OFF.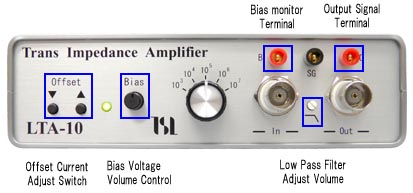 ■ Convenient Functions
* Check terminals are equipped with by measurement of the bias voltage
and the observation of the output signal
* The Automatic offset alignment
It coordinate an offset current automatically as an output DC level
becomes 0V.
Because it does not become to 0V completely, please use it as adjustment
to the "about 0V".
* One-touch zero setting of the offset current
* The variable fc low pass filter that is convenient for the amplification in the
DC-low frequency

■ Specification
* Linearity error
< 0.1%
* Input current noise
5pA /rootHz
* Frequency response
250 kHz
105 range LPF:thru
* Bias voltage
+/-10 V
By volume operation
* Offset current
+/-50 uA
By switch operation
* Single step
* Auto increment
* Offset ZERO force
* Auto offset alignment
* LPF(fcmin)
approx.
15 kHz
DC~fc Low pass filter
fc = fcmin to thru
* OUTPUT(rating)
+/- 5 V
load >100 ohm
* OUTPUT(max)
+/- 10 V
load >200 ohm
* INPUT(rating)
+/- 5 mA
103 range, LOAD:>100ohm
* INPUT(max)
+/- 10 mA
103 range, LOAD:>200ohm
* Impedance(OUT)
50 ohm
short protection
* Operating Volts
4.5~9 V
* Power consumption
0.3 A
@5V no-Input,no-Load
* Profile
W140 mm x H40 mm x D100 mm
(without Rubber)
* Weight
< 380 g
* Accessory
AC Adaptor
■ Brochure
■ Inquiry
E-mail : support@tslab.com